"Perry Mason," a courtroom drama TV series, aired on CBS from September 21, 1957, to May 22, 1966. The titular character, created by Erle Stanley Gardner and portrayed by Raymond Burr, is a criminal defense attorney based in Los Angeles. Many episodes were adapted from Gardner's short stories.
With nine seasons and 271 episodes, the show was a resounding success, earning three Emmys, including one for Outstanding Drama Series in 1959. "Perry Mason" also spawned various spinoffs, such as a radio show, a comic book, and a feature film.
In 2020, HBO introduced a new series, a prequel, delving into Perry Mason's backstory. This incarnation features Matthew Rhys as a World War I veteran and divorced private detective struggling with his past trauma. Hired for a high-profile child abduction trial, his investigation has far-reaching consequences for Mason, his inner circle, and local authorities.
The new "Perry Mason" series received critical acclaim for Rhys' performance and its gritty tone. Despite attracting over 7 million viewers per episode, HBO decided not to renew the show for a third season.
Perry Mason Cast: Where Are They Now?
Raymond Burr (Perry Mason)
Born in Canada, Raymond Burr enjoyed a prolific Hollywood career, with notable roles in classic films like Alfred Hitchcock's "Rear Window" and Fritz Lang's "M." However, he achieved iconic status as Perry Mason, gracing more than 200 episodes of the original CBS series. Following its conclusion in 1966, he assumed the title role in "Ironside," which aired from 1967 to 1975. In 1985, he reprised his role as Mason in a series of TV movies. Burr's battle with kidney cancer ultimately claimed his life in 1993. His portrayal of Perry Mason remained irreplaceable, leaving no room for another actor to step into the iconic role.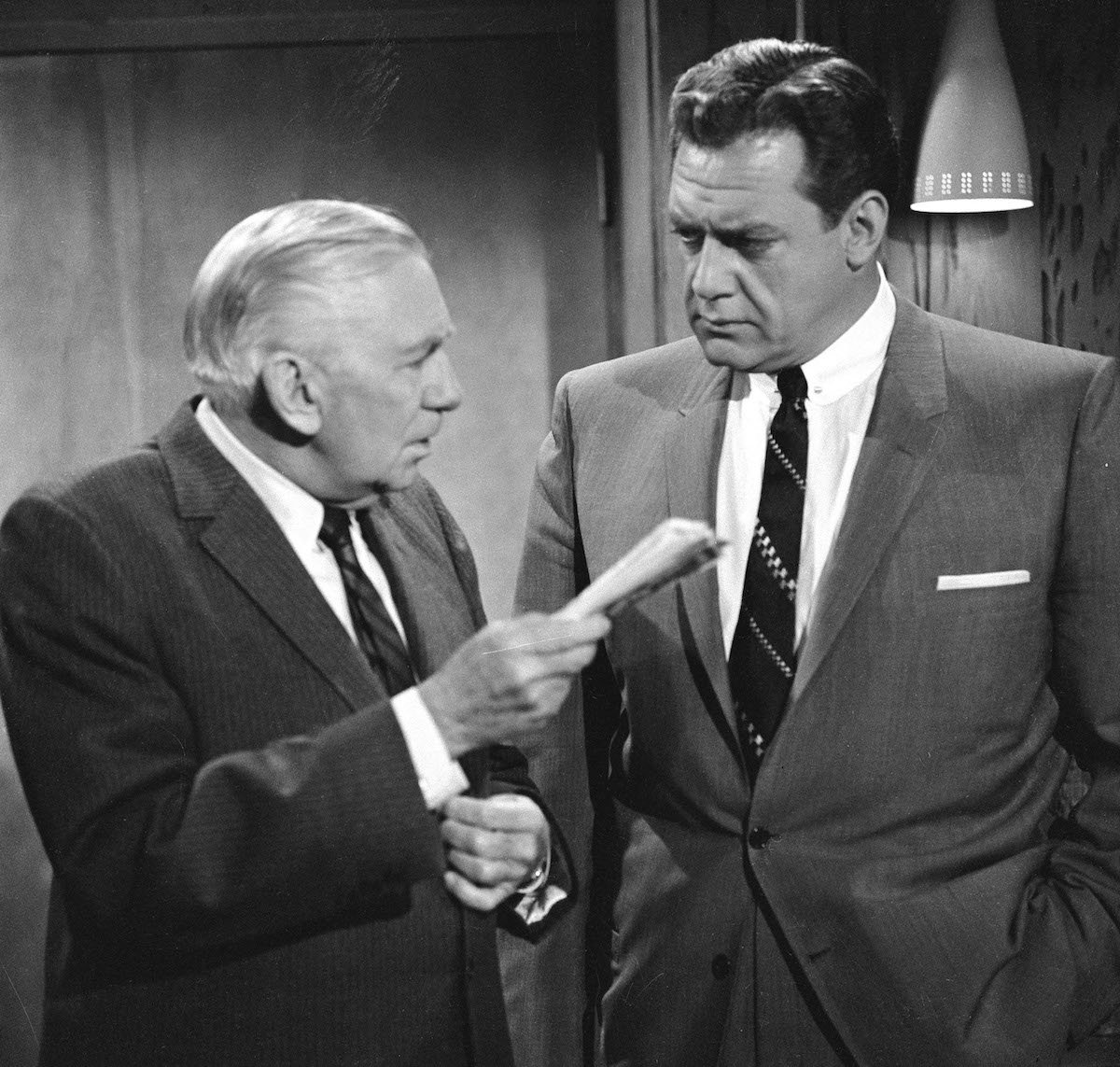 Barbara Hale (Della Street)
Perry Mason's legal brilliance was undeniable, but his indispensable ally, Della Street, played by Barbara Hale, was the linchpin of his success. Surprisingly, Barbara Hale had contemplated retirement from acting before stepping into the role of Della, as noted in her obituary in The Hollywood Reporter. Her portrayal of Della persisted throughout the nine-season run of the show and carried over into the Perry Mason TV movies, cementing her legacy in the role.
William Hopper (Paul Drake)
William Hopper assumed the role of Detective Paul Drake in Perry Mason, frequently collaborating with the lawyer to assist in solving cases. Hopper hailed from a family of notable entertainment figures, being the son of vaudeville star DeWolf Hopper and renowned gossip columnist Hedda Hopper. Beyond his work on Perry Mason, he also graced the silver screen in movies like "Rebel Without a Cause" and "The Bad Seed." Sadly, he succumbed to lung cancer at the age of 54 in 1970.
Ray Collins (Lieutenant Arthur Tragg)
Ray Collins, in the role of Lieutenant Arthur Tragg, often found himself on the opposing side of Mason's legal battles. His illustrious career in film and television came to a close with his passing in 1965.
Wesley Lau (Lieutenant Andy Anderson)
Wesley Lau portrayed Lieutenant Andy Anderson, another recurring police officer in the series. Even after his tenure on "Perry Mason," he continued to contribute to television and film until his passing in 1984.
William Talman (Hamilton Burger)
In Perry Mason, William Talman took on the role of district attorney Hamilton Burger, a frequent courtroom adversary of Mason. Despite his pivotal contribution to the series, CBS briefly terminated his contract due to a violation of the morals clause when he was arrested in 1960 for marijuana use at a party. However, he was eventually reinstated (as reported by Hour Detroit).
Talman's repertoire also featured a memorable portrayal as a menacing killer in "The Hitch-Hiker." Yet, like many of his Perry Mason co-stars, he remains most renowned for his role on the show. Tragically, Talman, a heavy smoker, succumbed to lung cancer in 1968.
Richard Anderson (Lt. Steve Drumm)
Richard Anderson assumed the role of Lieutenant Steve Drumm in later seasons of "Perry Mason." His extensive career in film and television continued until his passing in 2017.
Karl Held (Frank Marlowe)
Karl Held, who portrayed the recurrent character Frank Marlowe, pursued his acting career after "Perry Mason." Although little is known about his later life and professional endeavors, his contributions to the show are remembered fondly.
Jeanne Cooper (Eileen Fremont)
Cooper died in 2013 at the age of 84. She is best known for her role as Eileen Fremont, Perry Mason's love interest. She has also appeared in several other films and TV shows, including The Young and the Restless.
These are just a few of the many cast members of Perry Mason who went on to have successful careers after the show ended. The show was a classic, and it helped to launch the careers of many talented actors.
The Legacy of Perry Mason
Perry Mason is still considered one of the greatest legal dramas of all time. The show was praised for its suspenseful storylines, its complex characters, and its witty dialogue. It also helped to popularize the legal drama genre, and it inspired many other shows, including L.A. Law and Law & Order.
The show's legacy continues to this day. It has been adapted into several films and TV shows, and it is still enjoyed by audiences around the world. Perry Mason is a classic that will never be forgotten.